Hi! Tell us about who you are and what you do.
Hello! My name is Vitaly, I am a Ukrainian living in Berlin, Germany. I am a software engineer, currently finding myself in engineering management at Zendesk.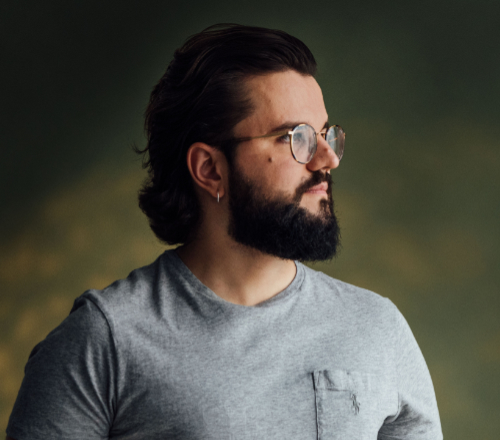 I like reading, writing, video games, and exploring new things. I run the Tech Lead Compass one-pager, and occasionally write in my personal blog. Sometimes, I am also tweeting @VitalyPushkar about tech and politics. But more importantly, today I am launching the Hacker Stations!
I like learning about other people's setups and have been frequenting multiple "rate my setup" blogs and subreddits over the years. But I've noticed that I am biased towards programmers' setups only. I like reading about other engineers' hardware preferences, various tools, favorite editors, knowledge management, etc. That's why I decided to create Hacker Stations to focus exclusively on that. I hope you will like it as much as I do.
What is your hardware setup?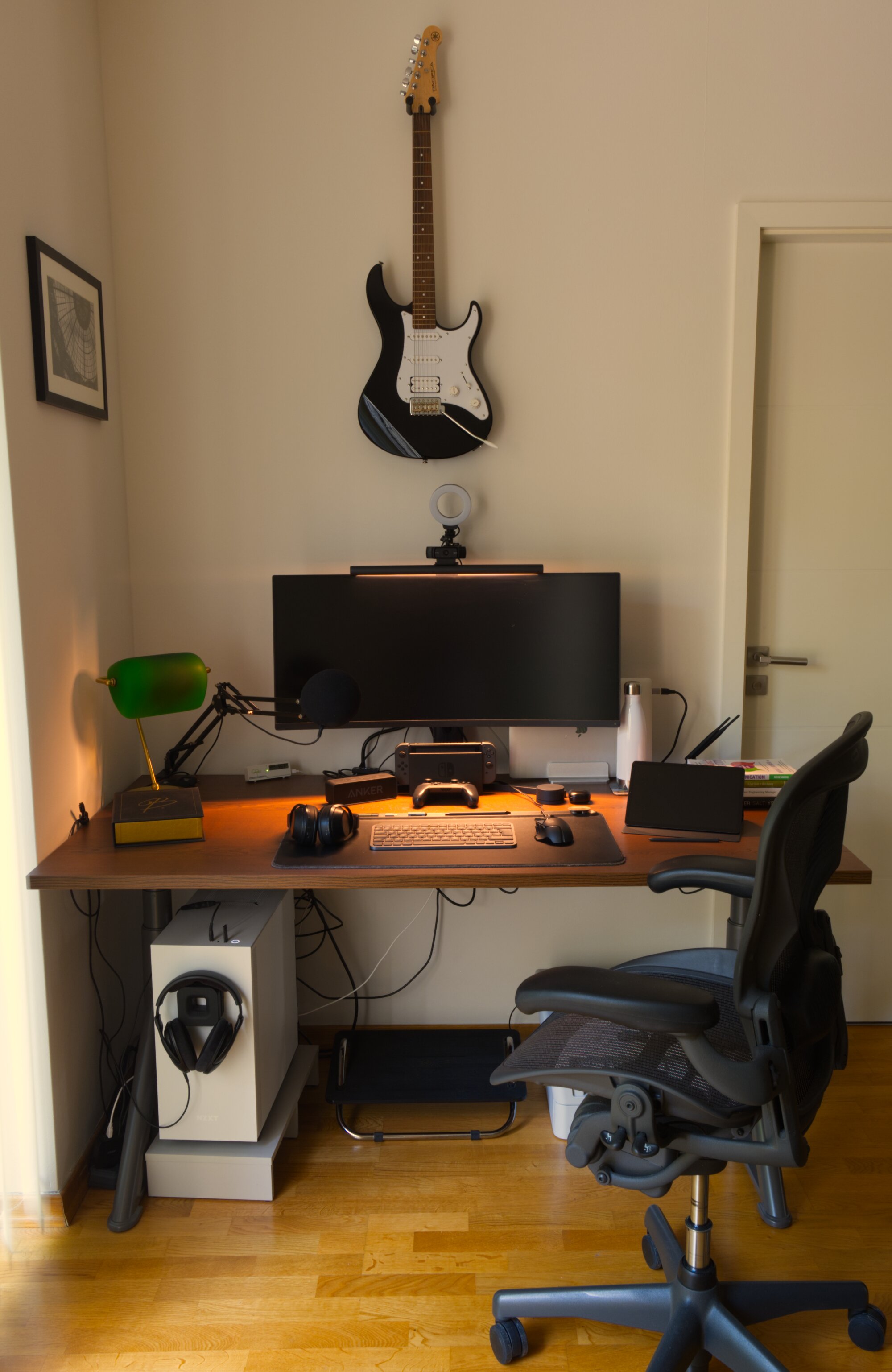 I own multiple systems.
An old Macbook Air from 2013 with 8G RAM which I am using for casual browsing and writing. Last year I was eager to buy a new M1 Macbook Air, but then decided in favor of sustainability and just replaced the battery in this old one. I am pretty sure it's going to survive another couple of years of occasional use.
Then, I have an Intel-based 16" Macbook Pro with 32GB RAM for work. It's living its life mostly in the clamshell mode, connected to my 34" Xiaomi Ultrawide Gaming monitor, and a USB switch.
The monitor is not perfect, as it is only WQHD, but the 144Hz refresh rate is noticeable in gaming. It was an impulsive purchase, and I am now thinking about buying a 4K monitor, instead, even though it's not that bad considering I am sitting quite far from it.
The USB switch, which I am using to share the peripherals between the work Macbook Pro and a personal PC, connects an old Logitech HD Pro C920 webcam (still running strong after all these years), a Logitech G502 mouse, and a Blue Snowball microphone mounted on a cheap arm off Amazon.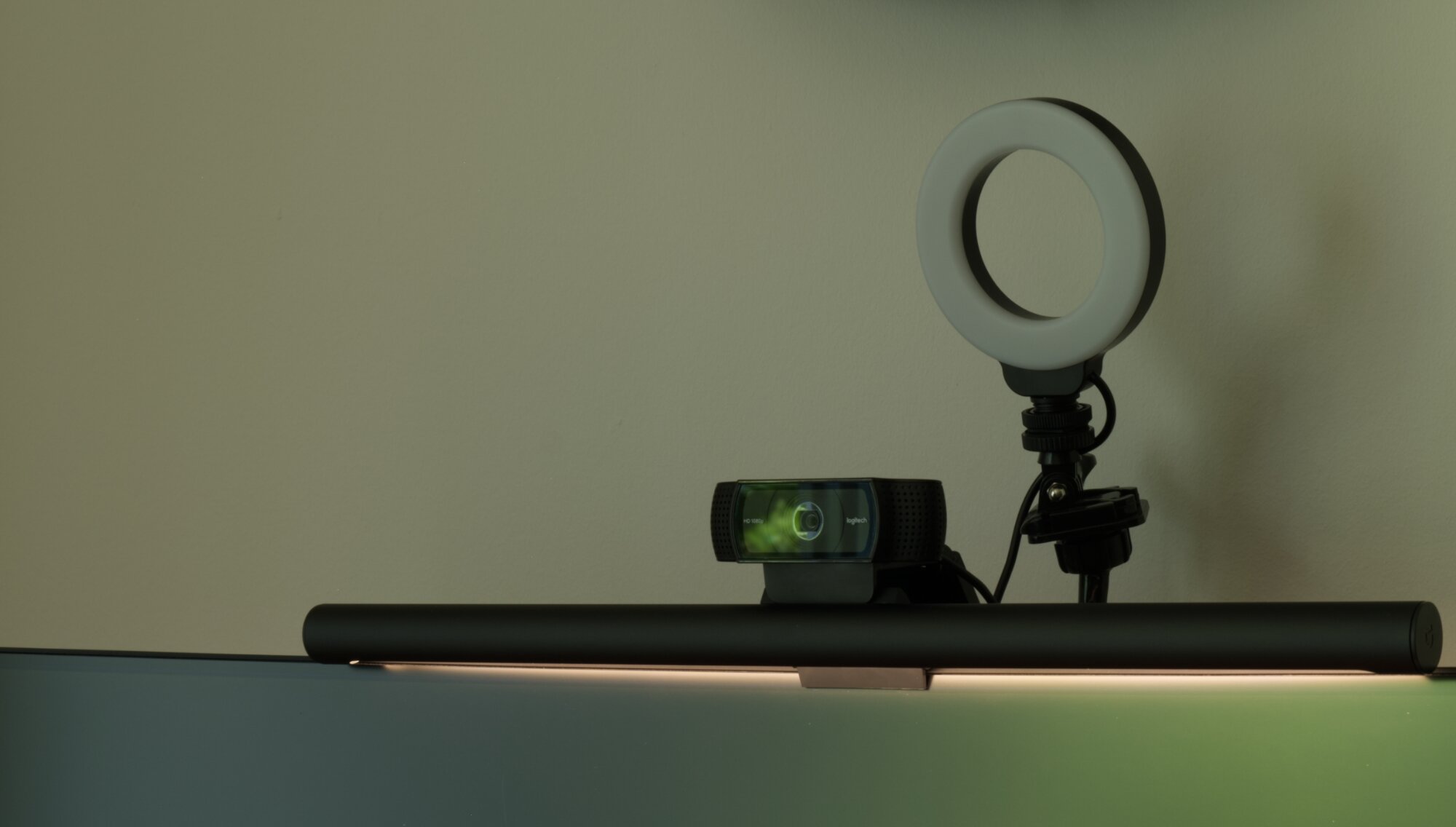 I've also managed to somehow mount the webcam on top of the Xiaomi Monitor light bar, with a cheap light ring behind it. The Xiaomi light bar is really cool: it attaches to the base on magnets and has a remote switch to turn it on/off and adjust the color warmth and intensity. The light ring is rather small but it's more than enough to be visible during meetings and to help the webcam focus properly in low light conditions.
My standing desk is the IDÅSEN from IKEA. I still haven't developed the habit of standing during the day, but sometimes I do. It's also important that I can adjust the desk for my height and the height of my chair while sitting - to be ergonomic. My chair is the boringly default Aeron from Herman Miller. I bought it refurbished from Ferbox. These guys are amazing! The chair was like new while costing three times less. I love this chair and finally feel my posture has improved and I am getting less tired from sitting during the day. My previous IKEA Markus was OK while I had it, but after switching I can say the difference is the day and night.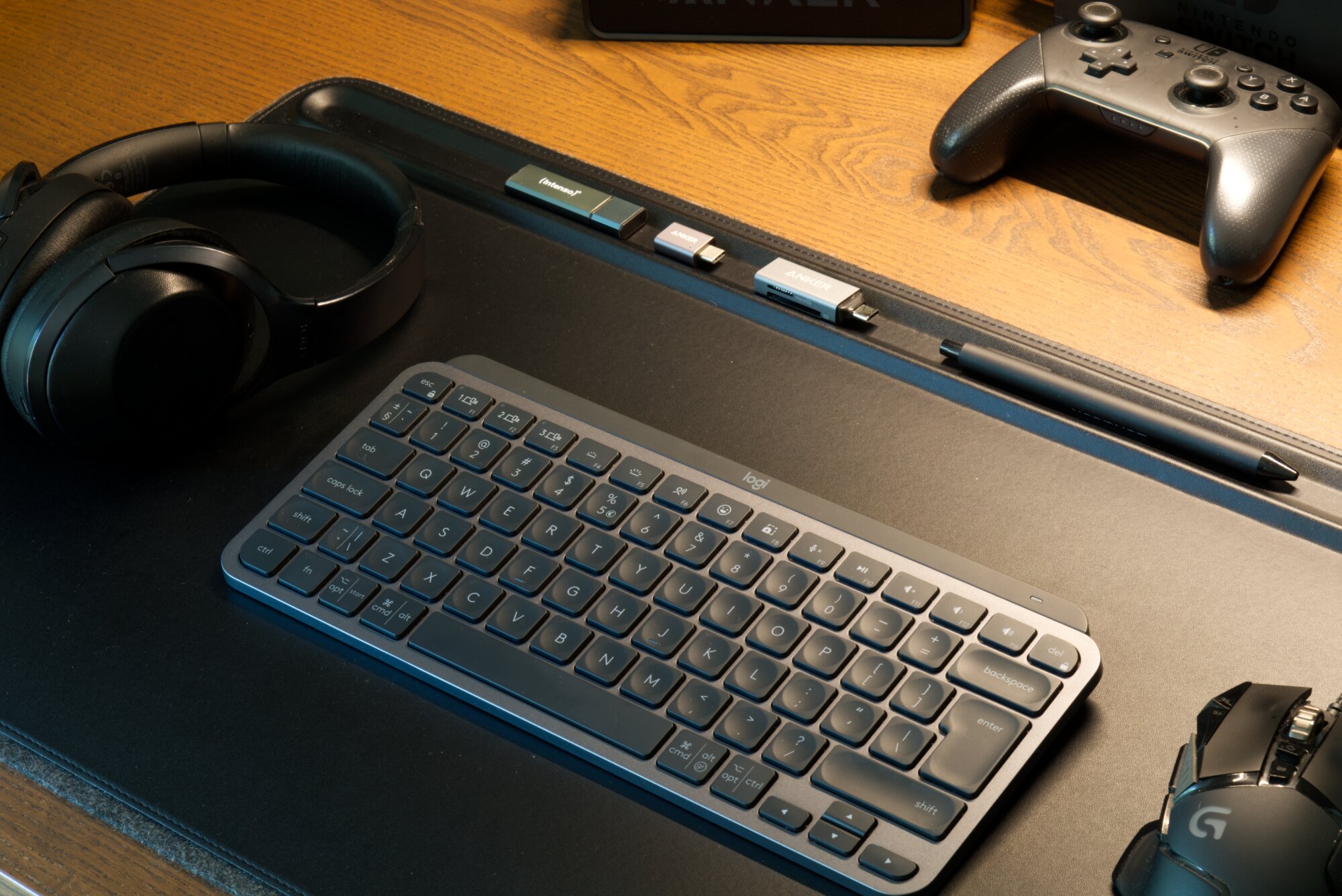 After falling for the mechanical keyboards hype and trying a couple of different keyboards over the years, I am finally back and happy with a simple Logi MX Keys mini. It supports easy switching between multiple devices, and I am sharing it between the PC and the work Macbook - just like other peripherals. Although, for it to work with the PC while it's booting (for OS selection, BIOS, etc), I had to buy a special Logitech Unifying receiver instead of connecting via Bluetooth.
My keyboard and mouse are resting on top of the Orbitkey Desk Mat, which I adore. It has an underneath layer to store documents and papers which I use to keep my desk tidy.
Finally, my PC is custom-built at the beginning of the pandemic. I find PCs to be more interesting from technical, aesthetical, and ergonomic perspectives than laptops. Growing up I only had PCs and it might be I am just biased. My PC features an AMD Ryzen 7 with 32GB RAM and a cheap AMD GPU encased in the popular white NZXT H510. At the time of building it, there were already shortages of components, and I decided in favor of an upgradable build. The ASUS TUF x570-PLUS motherboard will support a next-gen CPU in a couple of years. GPU prices were outrageous at the time, so I bought the modest Radeon RX 570 intending to upgrade it soon after. Ironically, now mid-2022 GPU prices are finally down and I can buy something good, it turns out that the current GPU is enough for me considering I am not playing any AAA games. Same with the RAM - I started with 32GB, which can be extended any time up to 128GB, but so far it's been enough.
Recently, I've also started using a Yubikey for two-factor authentication and it's been a blast! No more of the annoying "unlock the phone, launch the authenticator app, find the website, enter the code before it's disappeared" drama. Now I log in with a single touch on the key, also shared between my devices with that USB switch.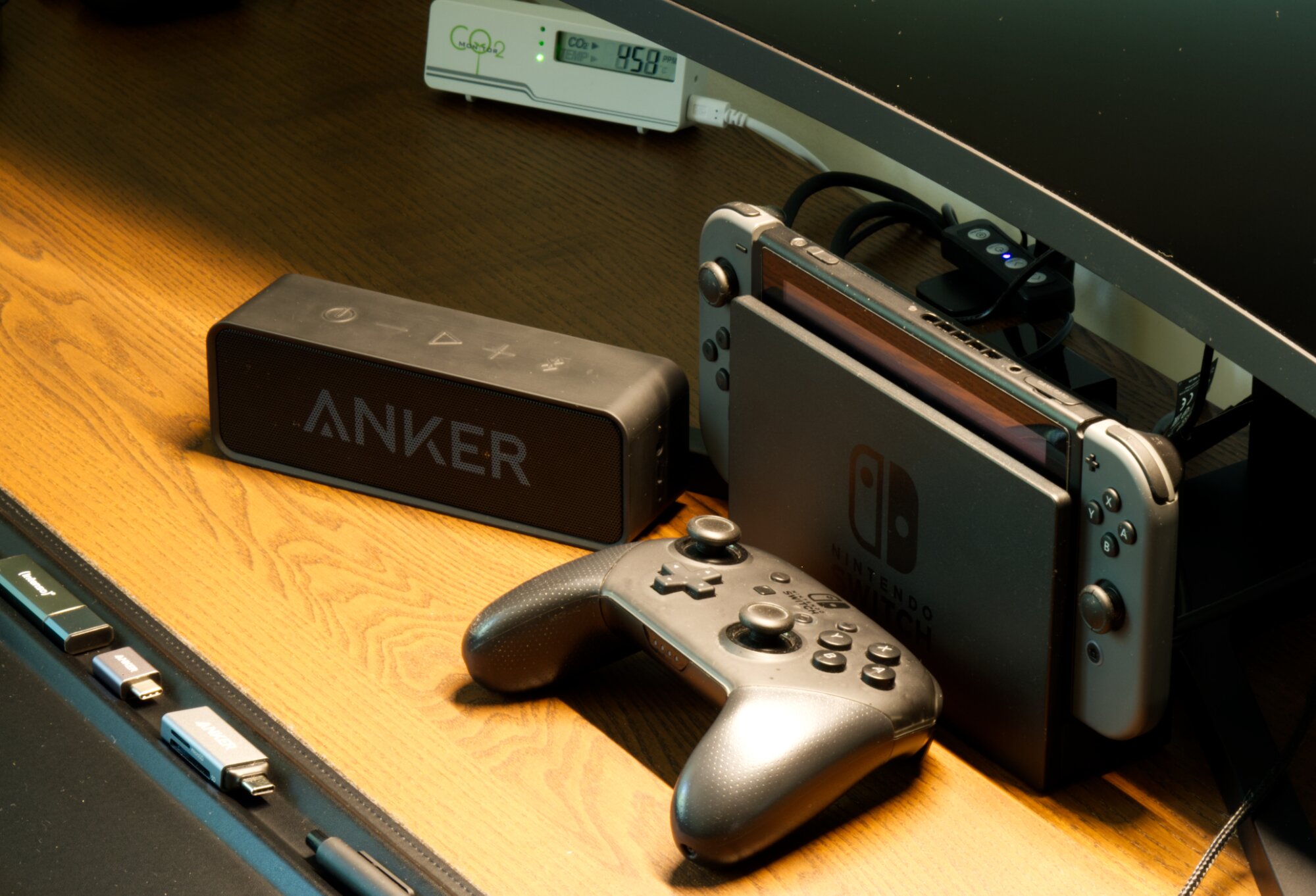 Another device connected to the monitor is my beloved Nintendo Switch. I enjoy the mobility of the Switch, but often also play on the screen with the external Switch controller.
For headphones, I switch between the first generation noise-canceling Sony MDR1000x for work, and circumaural, open Sennheiser HD 559 for leisure. It's all I need when it comes to workplace audio, and when I am outside, listening to audiobooks or podcasts, I use the Galaxy Buds Pro which I got "for free" with my phone.
A couple of years ago I became rather frustrated with Apple's lack of innovation and pricing policies, so I decided to migrate off to Android. I've been relatively happy with Samsung smartphones since then (S21 currently), mostly because of the cameras and the camera software quality. But I despise the Samsung bloatware.
Apart from the smartphone, I also own a Samsung Galaxy Tab S6 Lite for occasional note-taking and watching TV shows in bed. I looked for a cheap yet quick and usable tablet and am more than happy with this one.
I might get back to Apple in the next iteration of my hardware upgrading, considering the innovations with M1/M2 and decent iPhone SE models.
Although discontinued, I still find the Fujifilm XT-20 to be a very decent camera, which I am using when travelling.
For video, I've recently purchased DJI Action 2 and I really like how small and modular it is. The chest magnet clip is such a great idea! The quality is decent, too.
And what are the favorite items in your workspace?
Not listed above, the most important gadget on my desktop is the CO2 monitor. It's an unknown brand CO2 monitor off Amazon, but it has changed my life. Before I would get really tired and sleepy by 3 PM and I could never connect the sleepiness with the lack of oxygen. It's not that I didn't air the room before - I did! But I never realized how quickly CO2 builds up again, and how often I should let the fresh air in. Since buying the monitor, I've been more deliberate about letting the fresh air in and having a fresher mind as a result. A must-have item in every home!
What is your software setup?
These days, I am very minimalistic when it comes to the setup. Earl into my career I would try out all Linux distros and WMs, all mac apps, and all possible IDEs, editors, and plugins. I had an extensive Emacs setup at some point, and a pretty custom i3wm setup as well. Somehow, over time I got tired of supporting all of that, and also needed a more cross-platform, hassle-free setup. In the end, I downshifted to stock versions of Linux Mint and Mac OS.
The only couple of things I am still unapologetic about is iTerm2 with zgen zsh, and Firefox.
I use the VS Code with standard key bindings and only necessary plugins for each language.
I like asdf for managing multiple runtimes, fzf for command line fuzzy search, and exa and bat as modern replacements for ls and cat, accordingly.
I am managing my passwords with Enpass on all my devices.
I take notes with Joplin. In Joplin, I am trying to follow the PARA method and it's been quite successful so far. I wanted to like Obsidian but the bumps I had to jump over to view and edit my notes on a smartphone were just too much.
On Macs, I prefer to streamline all my workflows through Alfred. I automated a couple of annoying things with Alfred, but nothing radical.
Also, a big fan of Audible, with a library already longer than I can ever listen to.
Any favorite programs/apps/tools?
I can't think of anything specific, but Firefox is probably the closest to what I am almost religious about. I hope they will keep delivering, considering all the mismanagement at Mozilla in the last couple of years.
What are your favorite programming or scripting languages?
After all these years, I still think that Ruby is a wonderful language, and Ruby on Rails is the best pragmatic choice for creating pretty much any web application. I can confidently say that I went the full circle on it as this meme suggest.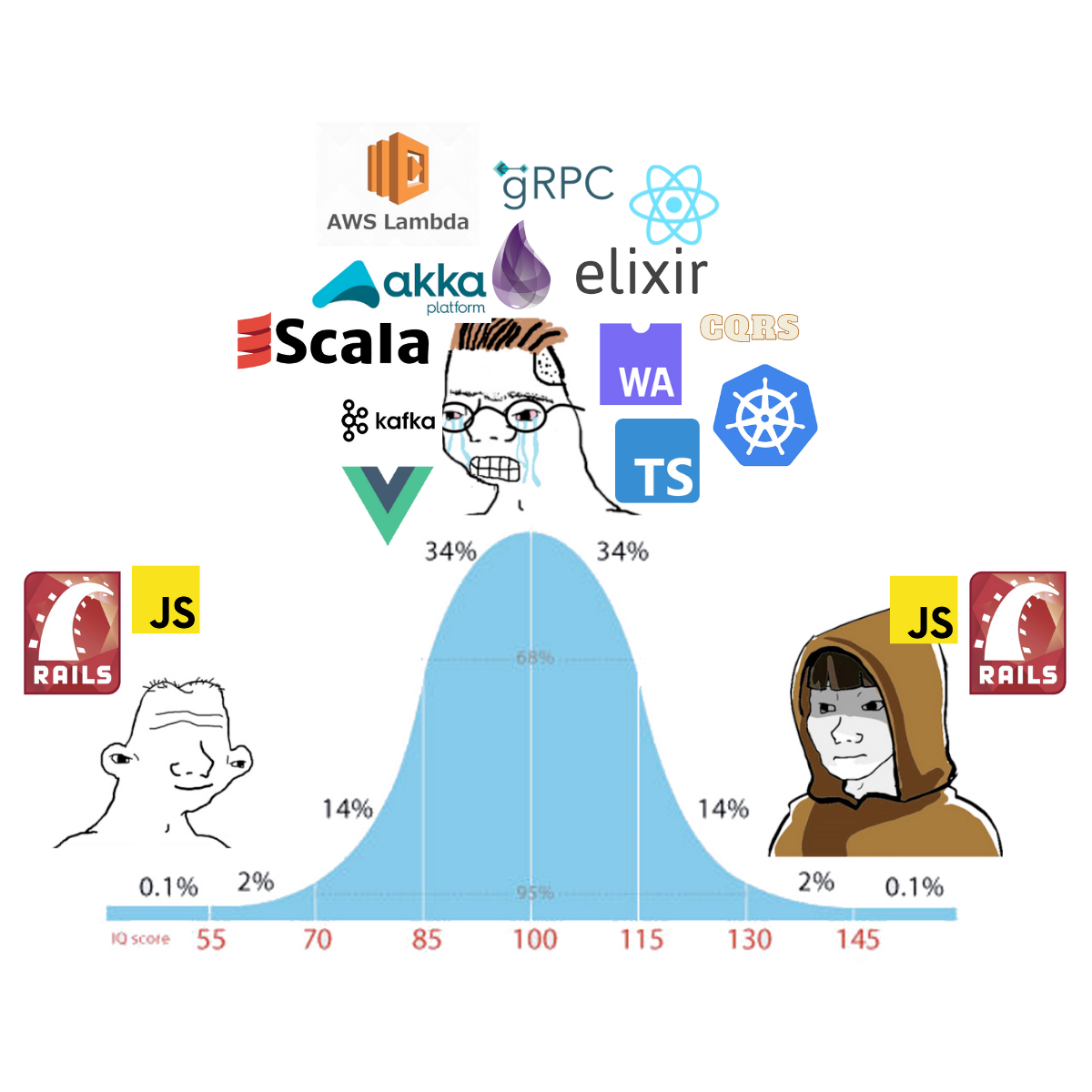 Clojure and Scala are my two other favorites, although I have less experience with them.
I still can't – and probably never will – like Javascript and its ecosystem. It's an irrational fear at this point, but I am dreading it every time I have to work with it. Thankfully, there is TypeScript now, which I am slowly getting into. Although that doesn't fix the terrible JS ecosystem problem until Deno is ready to use in production.
Is there anything you are missing in your setup?
I would like to have a second monitor with 4K resolution for work, but to still keep the ultrawide one for gaming. Unfortunately, the space and the power consumption is the issue, so I will probably have to make the hard choice.
An M1 or M2 Macbook Air is on my list once my old Macbook Air goes into the eternal cloud.