Hi! Tell us about who you are and what you do.
Hi! I'm Kasia and I'm a tech lead living in Berlin, Germany. I like tinkering with stuff, be it code, space and objects around me or various art mediums. Other than for programming, I use my work space for sewing, drawing, knitting and other kinds of craft.
It was quite a challenge to design such a multi purpose workspace which allows for easy switching between different activities. While designing it, it was my goal to have a setup which is functional and minimizes the effort to start on any activity I want to do. But in the same time, I strive to create an esthetically pleasing, cozy space with a vintage touch and to be able to showcase various trinkets and art pieces that I accumulated over the years of travelling and visiting fleamarkets.
What is your hardware setup?
For work, I use Macbooks provided by the company, models vary. After hours, I use an old, 13in MacBook Pro, early 2015 edition which is still going strong! I also use an iPad Pro and Apple Pencil, mostly for drawing and taking notes.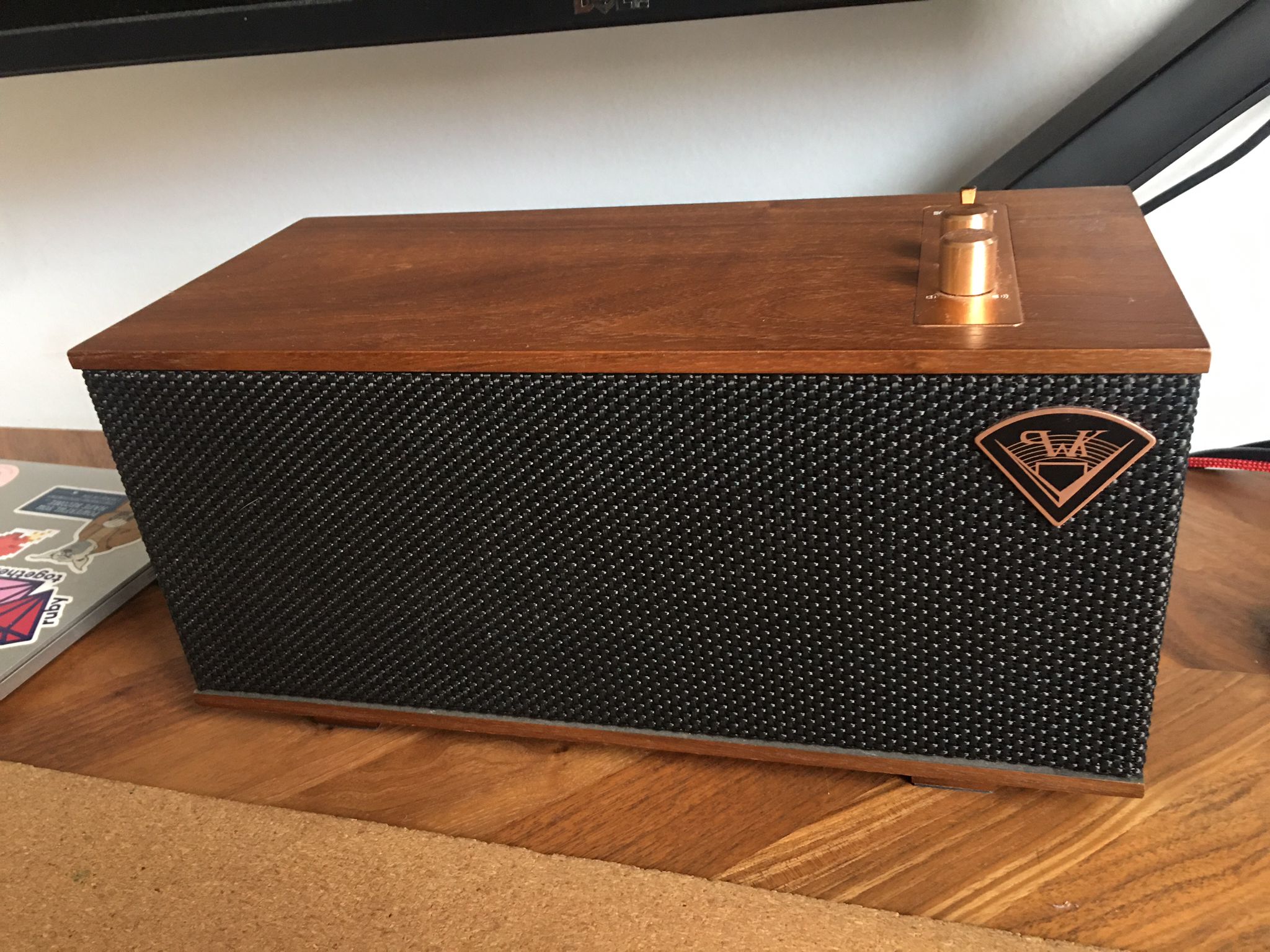 I usually keep the laptop aside, and work on an external, 27in Dell monitor. I got rid of the basic leg attachment and mounted it using ICY BOX monitor mount which is super convenient - it saves quite a lot of space on my desk. I also have a small, but feisty speaker - Klipsch The One in walnut finish.
When it comes to ergonomics, I really like my standing desk with custom walnut top from Standidesk. I only use a vertical, wireless mouse - touchpads or traditional mouse are triggering my wrist pain. For personal use I have a mini wireless Apple keyboard (without numeric panel on the right) as I need to move it around a lot when I'm crafting. For daily work I prefer using split keyboard. My all time favorite is Kinesis Freestyle 2, along with padded palm support and tilt accessories. I love the low profile, low force keys - I find that both factors contribute to much less tension in my wrists and hands.
I tested different ergonomic chairs, but surprisingly a game changer for me was a simple, rotating chair from Ikea. Hard surface encourages me to maintain a neutral, ergonomic position with my back straight and not to be completely still. One good advice I got was to make sure you can breath using your diaphragm fully while sitting and I found that crucial thing here was lowering the desk - it was too high and created the tension in my arms. Using soft, ergonomic chairs was often leaving me with tension in unexpected muscles, so I just switched.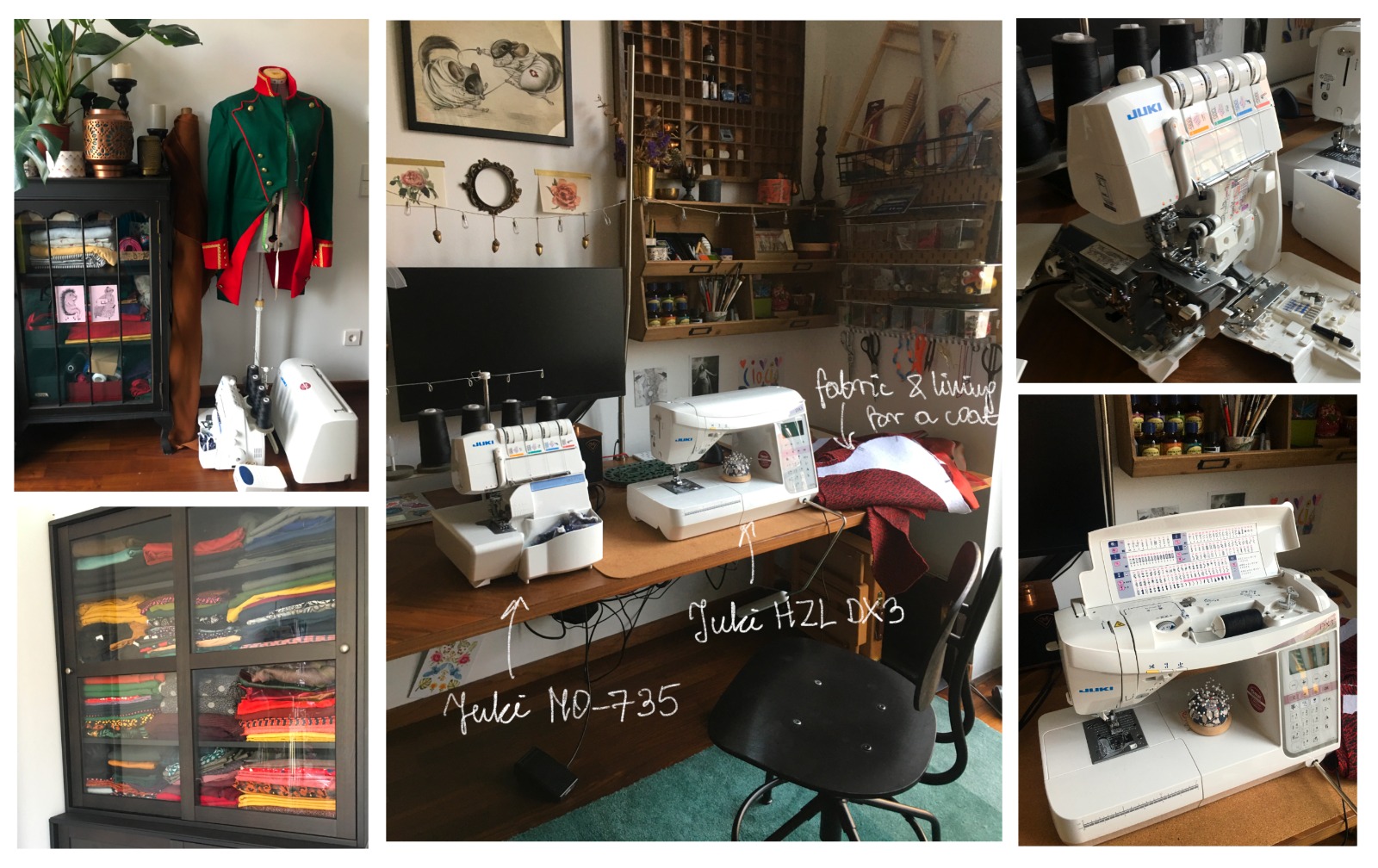 For sewing I use two different sewing machines: for basic usage I have Juki XZL DX3 and for finishing I use overlock/coverlock machine Juki MO-735. Juki is a japanese brand that I found quite reliable, and they provide excellent technical drawings of all the components and configuration. Especially in case of overlock sewing machine, which deals with up to 5 spools of thread, having clear, visual instructions is crucial. The second machine is quite unique - less than 5 minutes of reconfiguring and it transforms into a coverlock, which usually is a different kind of a sewing machine. So it's very versatile.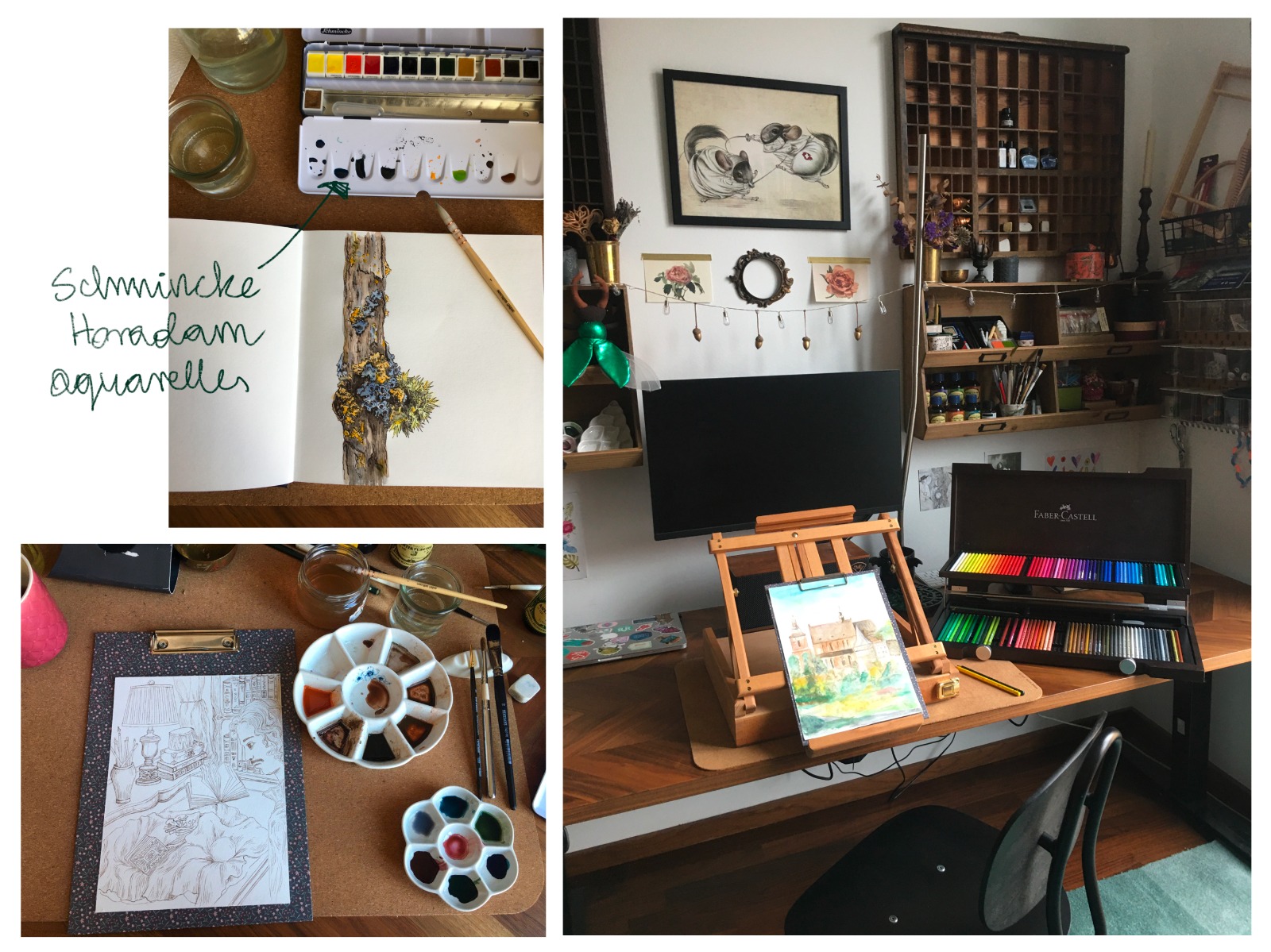 I also have a bunch of different art & craft supplies - I love my huge cutting mat and rotary cutter, inks and nibs, Polychromos colored pencils, watercolors and ceramic palettes. I also have a hobby Daylight LED lamp which is super useful for working with details.
And what are the favorite items in your workspace?
In general, I really appreciate that all of my passions come together here. I used to feel bad for having that many creative outlets - I thought it makes it harder for me to be a good engineer, but the truth is - it does the opposite. And now I embrace all sides of my craftsmanship.
In the process of designing this workspace I had to ask myself - what is my usual process for brainstorming the design for a new feature? What do I need to be comfortable and focused during video meetings? What do I need to stay focused and inspired when I'm sketching a new illustration? How do I use the space best when I need to cut into 5 meters of fabric? It was super enlightening to give so much thoughts to how I work and try out different settings - I learned a ton about myself and my creative process.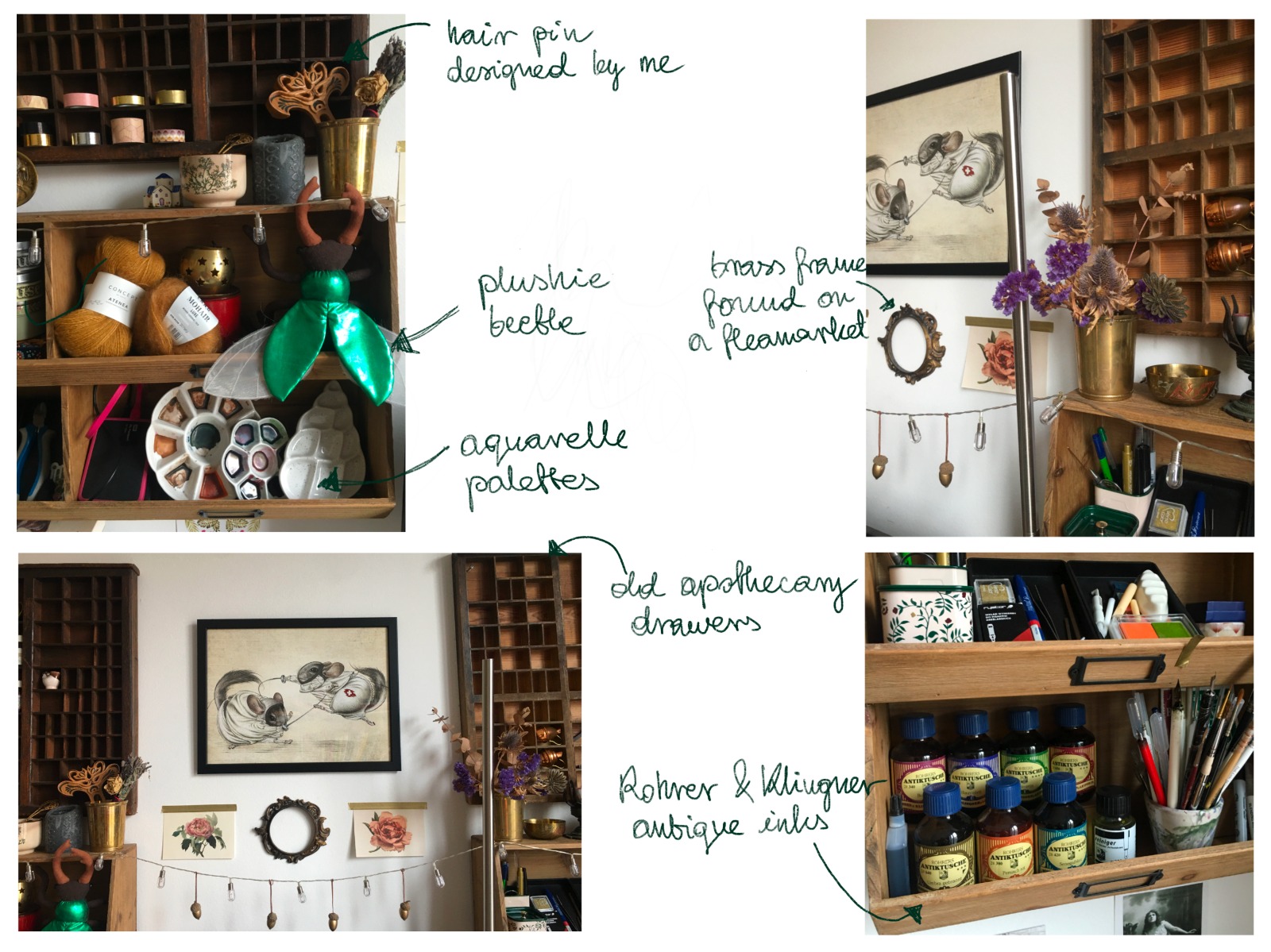 Aesthetically, I love my Rohrer&Klingner ink bootles, my apothecary drawer shelves with all the trinkets and fencing chinchillas' art print by Paweł Ponichtera. I started epee fencing last year and love to have this little reminder in my personal space. I also love the beetle plushie holding a piece of cheese and a spool of thread commisioned by my husband from Little Hugsters.
I like having a couple of different sources of light - fairy lights and LED candles, strong LED lamp for crafting and small lamps providing ambient light. I'm not a fan of super bright light and need a couple of dim light sources to be the most comfortable. The artificial white light is one of the reasons I'm not coming back to the office on a permanent basis!
Any favourite programs/apps/tools?
My current editor of choice is VSCode with Vim bindings, I quite like its pair programming feature (Live Share) too. And there's so many other extensions that make my life easier, like tabnine.
I use flux on max yellow setting all day so that my eyes don't get tired. I also use the lowest brightness on my monitor - if you have sensitive eyes I strongly recommend doing that!
On my iPad I use Procreate - great for sketchnoting and drawing. For more traditional text notes that I would need in digital form I use Nebo - an app that transforms your handwriting with Apple Pencil to digital text. It's also useful for writing my German assignments as it supports a bunch of languages and to me it's easier that changing keyboard settings over and over. I also tested Nomad - a 3D modelling app with an amazing UI, and I would love to come back to it and explore the topic of 3D printing more.
Lat but not least - for brainstorming I really like using a physical notebook - the bigger the better, along with colored pencils - they are great for sketchnotes. I love Faber Castell Polychromos colored pencils, they have amazing color range and feel super smooth on paper. They are expensive when you are getting a big set, since those are artist grade pencils, but you can buy single colors in art supply store - and for sketchnoting you won't be needing more that 3-5 colors anyway.
What are your favourite programming or scripting languages?
Definitely Ruby! I like that it's verbose and concise. On top of that I appreciate the Ruby community a lot - great at discussing conventions, good design and adopting new concepts and practices. I was inspired by so many great folks in the community - Sandi Metz, David H. Hansson or Eileen M. Uchitelle just to name a few, as well as plenty of my colleagues with whom I had a pleasure to work over the years.
I also find it quite a remarkable entry level technology for building web apps. I was teaching Ruby in a couple of workshops (mostly, Rails Girls) and I love how convenient Ruby is in showcasing basic programming concepts as well as explaining how web apps work. In the same time, it really is a solid technology with good tooling (not just for development, but also monitoring, benchmarking etc.) that can be used to build great, scalable applications solving real world problems.
Is there anything you are missing in your setup?
I would like to get a camera that I can mount on top of my screen - for now, in order to have video calls, I need to get my laptop back in front of me.
I also want to 3D print this ink and nib holder. And to hang all of my art, prints and postcards that I've gathered so far, but haven't gotten around yet.
What book comes to your mind that you would like others to read?
One book I can recommend to everyone working with web applications is "System Design Interview" by Alex Xu - it's technically meant to help in interviews, but the title doesn't give it justice. It's such a good read - the author basically takes different cases of scalability problems and takes us through designing a system that meets the requirements and iterates on improving it. It is very engaging and so interesting to read - you can finish it in one weekend. Maybe it's just me, because I really enjoy those kinds of system design challenges, but I think it is also super informative. It gives you a nice framework to go about scalability problems and thus it's not that intimidating anymore. It's a great basis for any further deep dives.
I also enjoy reading stories a lot. One that I read and appreciated not so long ago would be "Revenge: Eleven dark tales" by Yoko Ogawa - it's a book of short, quirky stories, which are all interconnected. I love the atmosphere that gets you immersed in the stories very quickly and lingers even after you read it. There's a strongly bizarre feeling to it, which you may know from the works of Haruki Murakami - if you like it, you should enjoy those stories too!