Hi! Tell us about who you are and what you do.
Hey there.
My name is James Stanier, and people probably know me best from my books and website. I wrote Become an Effective Software Engineering Manager, which is a hands-on manual for engineers making the transition into leadership. I also wrote Effective Remote Work, which is a guidebook to transitioning our habits, tools and cultures to remote.
I run The Engineering Manager, and in my day job I'm Director of Engineering at Shopify, which is a fantastic company to work for.
I live in a rural part of Cumbria in the UK, in a small village of around 250 people. There are more farm animals here than humans.
What is your hardware setup?
For work, I use an M1 MacBook Pro, which is standard issue for Shopify employees. You can see that on the raised stand to the right of the monitor. Eagle-eyed readers will also spot a Mac Mini, which is my personal desktop machine. Out of shot I have an M2 MacBook Air which is my personal laptop. The monitor is the 27" Apple Studio Display, which is a thing of beauty. Headphones are the AirPods Max for home, and Air Pods Pro for travel.
I get a lot of questions about my keyboard and mouse. I've been a user of the Kinesis Advantage 2 for nearly 10 years now. Not only did it help with comfort and preventing RSI, it greatly increased my typing speed, which is handy when you spend most of your day writing. It does sound a little like a machine gun though, as those who used to work near me in offices would attest to. The mouse is an Evolent VerticalMouse 4 which, again, is just far more comfortable to use for longer periods of time.
For my webcam, it's an Insta 360 Link, which is a 4K camera with good depth-of-field and low light support. It also has a self-stablizing gimble and can follow you around with face tracking. The microphone is a Shure MV-7 attached to a Rode PSA1 boom arm that clamps to the desk.
The desk itself is a Herman Miller Ratio sit-stand desk, that has automatic raising and lowering, which is pretty neat. The chair is a Herman Miller Mirra 2.
Front lighting is provided by two Elgato Key Light Airs, and I typically have one side emitting cool white light and the other emitting warm yellow light so I don't look washed out on camera. There's an Elgato Stream Deck that I use for controlling my front lighting, and also my rear lighting which is various Philips Hue lights behind my sideboard. This means when I'm on camera, I look something like this.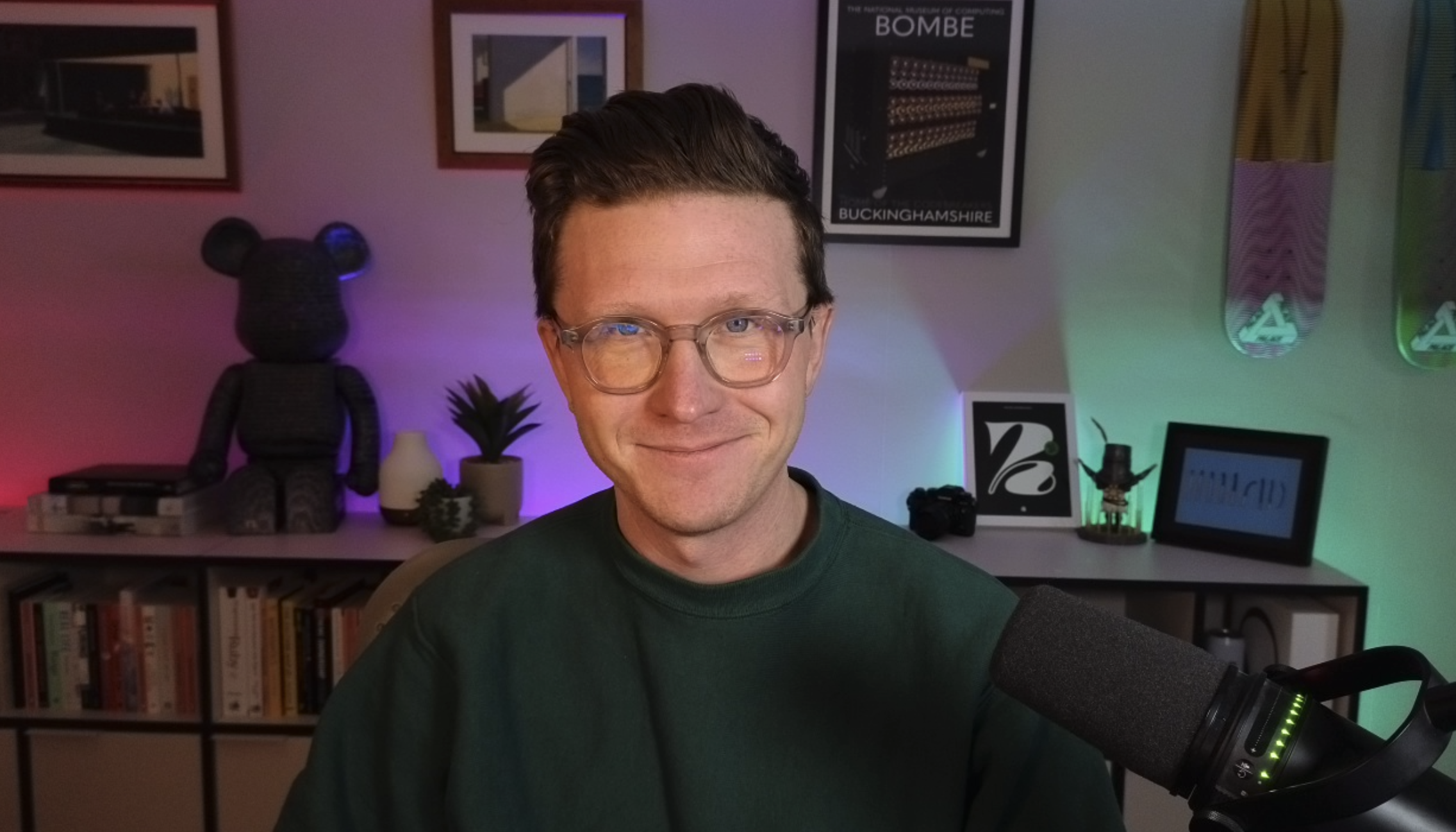 Next to my desk in my office I have my fun equipment too: a Roland electronic drum kit and a couple of guitars. Sometimes if you're having a think about something it can be useful to keep your hands busy until the idea materializes.
Oh, and clearly I have put zero effort into neat cable management. Nevermind.
And what are the favorite items in your workspace?
My keyboard is definitely one of them. It is a superpower for productivity because it's so fast and efficient. I'm writing this response on a laptop right now and wincing over how terrible my hand positioning and keypress efficiency is in comparison!
The framed picture behind me of burning matchsticks is a collage my partner made me in celebration of the first paid piece of writing I ever had published a number of years ago, so that means a lot to me.
Also, I love my guitars, even if I don't play them as much as I used to. They've been in my life for over 20 years, and if they're sitting around in a room, I'm home.
What is your software setup?
If I need to do any programming, I'm a Visual Studio Code convert now. It's great. Other than that, I use fairly vanilla software such as the native Mac OS applications like Safari, Mail and Notes, and for any kind of office tasks it's the Google Workspace suite. For the command line, it's iTerm 2. My website is run on WordPress, and I use Substack for the newsletter.
Oh, and I love spreadsheets. Spreadsheets are amazing.
What are your favorite programming or scripting languages?
When it comes to number of hours spent coding, it's Java, which I am still very fond of and comfortable with, even if I'm not using it in my job any more. I still turn to Python for putting together small scripts. I'm being exposed to more and more Ruby as a result of working for Shopify, and I must admit, it's a cool language.
However, as a senior manager, code isn't where I get my biggest leverage now. It's through writing, both inside and outside of work.
Is there anything you are missing in your setup?
Now that I've recently picked up the MacBook Air for around the rest of the house, I'm feeling pretty like it's complete. Sometimes the cows can be pretty noisy though, so perhaps some more considerate neighbours?
What book comes to your mind that you would like others to read?
Ah, I find recommending books so hard. So maybe I could recommend a video instead, which is The Principles For Dealing With The Changing World Order by Ray Dalio. It's a fascinating animation diving into 500+ years of macro-socioeconomic trends.